Organized by: ETA Florence Energie Rinnovabili, with the support of Rete Nazionale Agrivoltaico Sostenibile, EURAC, Rete NFV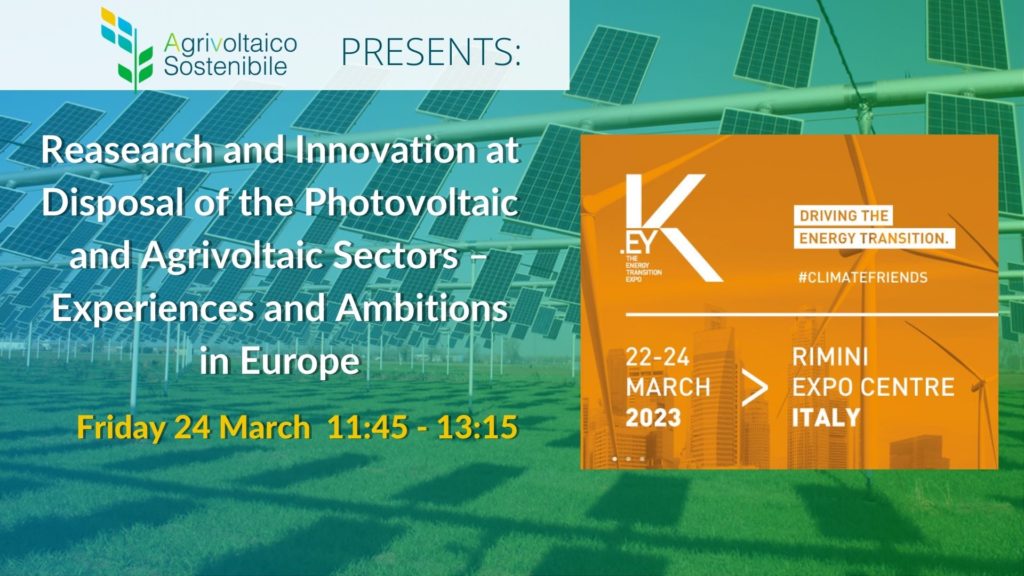 Friday, March 24, 2023, 11:45 – 13:15, K.EY. 2023, Rimini Expo Centre, Italy
In the coming years, new solutions and innovations will materialize for the photovoltaic and agri-voltaic sector. Agrivoltaic systems – i.e. photovoltaic systems whose characteristics are designed to allow agricultural activity whilst producing electricity – offer a unique opportunity to respond to the green energy transition.
Among the other communication and dissemination activities ETA Florence Renewable Energies supported the born and concretely worked for the constitution of the ENEA's National Network for Sustainable Agrivoltaics. This is a response to the need to network and share knowledge about this topic, such as who and how we can develop agri-voltaics, and studies and research in the field of agrivoltaics. This event will present research experiences on both a European and global scale, carried out by research institutions and in industry, and will conclude with a round table discussion including representatives from academia, industry and the public.
Introduction and welcome
Paolo Picchi, ETA-Florence
Research on agrivoltaic, the state of the art between research institutions and industry
Project Horizon Symbiosyst | David Moser, EURAC
Project Horizon Seamless PV | Pierluigi Bonomo, SUPSI
Project Horizon REGACE | Cristina Cornaro, Università di Roma 3
Rete NFV | Massimo Mazzer, CNR
Valmont Italia | Andrea Ricci
EF Solare | Gian Luca Teodori
Round Table
Research on agrivoltaic: urgent issues and emerging issues
Round table with speakers and audience
Moderator
Francesco Esposito, Legambiente
Ricerca ed Innovazione al Servizio del Fotovoltaico e Agrivoltaico – Esperienze e Ambizioni in Europa
Venerdì, 24 marzo, 2023, 11:45 – 13:15, K.EY. 2023, Rimini Expo Centre
A cura di: ETA Florence Energie Rinnovabili, con il supporto della Rete Nazionale Agrivoltaico Sostenibile, EURAC, Rete NFV
Nei prossimi anni nuove soluzioni ed innovazioni si materializzeranno per il settore del fotovoltaico ed agrivoltaico. I sistemi agrivoltaici – cioè sistemi fotovoltaici le cui caratteristiche sono studiate in modo da permettere l'attività agricola in modo sinergico alla generazione di energia – offrono un'occasione unica di risposta alla sfida della transizione energetica.
Nelle sue attività di comunicazione e diffusione di conoscenza scientifica ETA Florence Renewable Energies ha sostenuto la nascita e concretamente lavorato alla realizzazione della Rete Nazionale Agrivoltaico Sostenibile dell'ENEA. Questa oggi è una preziosa testimonianza della voglia ma anche necessità di fare rete e scambiare un bagaglio di conoscenze ed esperienze intorno al tema dell'agrivoltaico. Chi e come oggi concorre a generare conoscenza utile allo sviluppo dell'agrivoltaico?
Quali sono i temi del progetto agrivoltaico sui quali si studia e si fa ricerca? Che cosa ci può suggerire la ricerca sul fotovoltaico svolta fino ad oggi in termini di metodo e disseminazione tra i decision maker? Per cercare di rispondere a tali domande l'evento presenterà alcune esperienze di ricerca alla scala europea sia da parte di enti di ricerca sia da parte del mondo dell'industria, per poi discuterne in sede di tavola rotonda con gli intervenuti ed il pubblico.
Introduzione e benvenuto
Paolo Picchi, ETA-Florence
Ricerca sull'agrivoltaico, lo stato dell'arte tra enti di ricerca ed industria
Progetto Horizon Symbiosyst | David Moser, EURAC
Progetto Horizon Seamless PV | Pierluigi Bonomo, SUPSI & Giulio Poggiaroni, ETA-Florence
Progetto Horizon REGACE | Cristina Cornaro, Università di Roma 3
Rete NFV | Massimo Mazzer, CNR
Valmont Italia | Andrea Ricci
European Energy | Alessandro Migliorini
EF Solare | Gian Luca Teodori
Tavola rotonda
Ricerca sull'agrivoltaico: temi urgenti e temi emergenti
Tavola rotonda con intervenuti e pubblico
Modera Francesco Esposito, Legambiente